Samsung didn't release any new lower-cost, lower-powered "fan edition" phone last year in the months since it released the Galaxy S22. Instead, the company took its time and gave it a full year before it could come out with a full refresh. This means the Galaxy S23 FE, at its $600, benefits from a good deal of time and attention. From its silhouette to its large bezels, the phone doesn't seem all that exciting. If you were wondering, that's the whole point.
Samsung Galaxy Flip 5: Hands-on first Impressions of Samsung's Pocket-Sized Folding Phone
Samsung has done a lot to make this new FE phone far more enticing than the S21 FE from two years ago. The S23 FE starts at $600 for 8GB of RAM and 128GB of storage. It's running on a last-gen Snapdragon 8 Gen 1 chip, but even then, it's certainly the best price for the hardware the FE line has had to date, with better specs than in past years. Samsung's latest phone is $100 less than the S21 FE, and it has a far better camera.
At the same time, that price means it straddles both the affordable and the mid-range markets. It's not quite cheap enough to recommend to those on a strict budget, and it's hovering just a few hundred dollars less than some companies' premium offerings, including Samsung's own S23.
Being spoiled by choice is not bad for consumers by any stretch, but the current phone ecosystem has gotten to the point where you'll find minuscule differences between one sub-$1,000 phone and another. You could sit there and note every feature that may be available on the $700 Google Pixel 8 or the $600 Nothing Phone (2) that's not on Samsung's cheap phone, and vice versa. There's simply no point to that exercise.
The S23 FE is not as cheap as last year's $500 Galaxy A53 or this year's Google Pixel 7a. However, the FE is still a solid phone for its cost. If you like the Samsung ecosystem and you don't want to spend too much money, you can jump at the FE for smooth performance and a few hiccups. If you're looking for some new feature you haven't seen on a $600 phone before, you need to look elsewhere.
You won't get all the most exciting features of a premium phone, like Samsung's own Galaxy S23 Ultra. Hell, it won't even match up to the $800 Galaxy S23 in terms of raw power, battery life, and display. It won't match the video and photo quality of some of Google's better Pro sensors, despite the 50 MP main sensor upgrade.
But it's still a powerful phone with a solid performance that's better than what its specs imply. If your max budget is $600 for a new phone, getting this as a gift for the Android lover who wants a no-frills, no-big-thrills phone is hard to go wrong.
Samsung Galaxy S23 FE Design and Display
The FE Shares Some of the Best and Worst Parts of its More Expensive Brother
At first glance, the S23 FE phone looks light, almost plastic-y in appearance. It doesn't help that the glass-backed colors are extra bright. I'm personally not a fan of the shade of purple Samsung chose for its cheaper Galaxy phone, but I guess I prefer a darker purple that really brings out the goth-that-never-was in me. The phone's other standout colors include a nice, clean mint, but other than the bright tangerine color that's exclusive to orders on Samsung.com, there aren't many other standout shades.
When you actually get a hold of the new FE, it's not quite as light as it seems. It's comfortable to hold or have in your pocket, and it feels like a feather compared to the aluminum-cased iPhones in my life. Ergonomically, it's just not for me. The rounded edges don't feel comfortable to hold, and it's also too slippery in my hand despite its rather significant 6.4-inch screen size. The glass back is also rather prone to smudging if you hold it with your grubby fingertips. I've had issues with Samsung's backs getting scratched up, and while I seem to have been more ginger with this phone, I can see it continuing to be an issue for those who eschew the case.
The screen size is around 6.3 inches when factoring in the rather large bezels. The black borders are consistent around the top and sides but are much more pronounced on the chin. It's the kind of thing that's noticeable at first, but you get used to it rather quickly.
The phone is rated IP68, meaning it is dust-resistant and can survive 30 minutes under five feet of water. That's consistent with the other Samsung devices, but I'm glad to see they're consistent despite costs.
The screen itself is nice and vibrant, exactly what you expect from Samsung. It's a 120Hz, HDR10+ display that peaks at a nice and bright 1450 nits, at least on paper. I found the adaptive brightness wasn't as robust as on Apple's phones, and it sometimes required some manual adjustment.
Samsung Galaxy S23 FE Performance
The S23 FE Runs Smoother Than the Last-Gen Chip Implies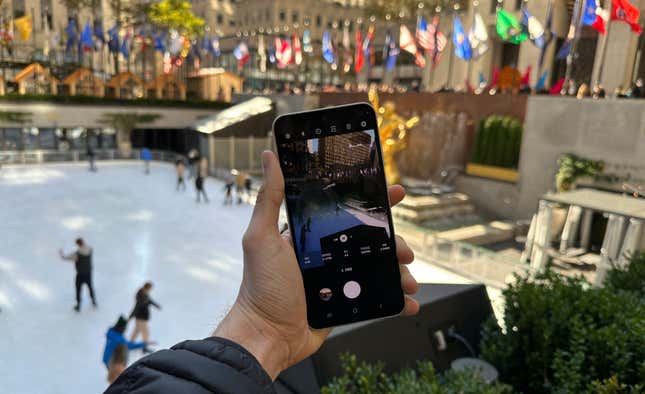 The S23 FE is running on a two-year-old Snapdragon 8 Gen 1 processor. Samsung usually makes some modifications to Qualcomm's chipset for its phones, but on its face, it's still a less powerful CPU compared to similarly-priced devices. The Nothing Phone (2) uses the Snapdragon 8+ Gen 1, which is slightly more powerful than the earlier version.
Benchmarks tell a slightly different story. The S23 FE performed moderately well on GeekBench 6 and easily beat other phones from last year's hardware, such as the Google Pixel 7. It only slightly underperformed compared to the newer Pixel 8.
Considering Google's efforts to catch up with its proprietary chip, that may be better news for the Pixel's Tensor chip than Qualcomm's Snapdragon series. The FE was, of course, below the regular S23 on both single-core and multi-core settings, but not by a lot. It also managed to match its older brother on WebXPRT 2015 for how well it can handle browser-based tasks like photo editing and face detection.
It's a smooth experience overall. I couldn't point to any time using it that I reminded myself I was using a $600 phone compared to anything more expensive. There are no problems with running multiple tasks, streaming video, and light gaming. You're not doing anything crazy with the FE, and that's to its benefit. You don't have Google trying to shove new AI features in front of your face. You don't have to worry about what kinds of buttons or ports you do or don't get with the latest iPhone, depending on how much you spend.
Sometimes, it's nice to have a device where what you see is what you get. You get a phone that works for everything you're already used to doing.
Samsung Galaxy S23 FE Camera
The FE's 50 MP Sensor is Nothing to Scoff At
From the rear, the FE looks a hell of a lot like the regular $800 S23. It has a three-camera array with three pronounced sensors, though the flash was moved slightly lower than Samsung's premiere Galaxy. More importantly, the S23 FE is packing a 50 MP main sensor with an f1.8 aperture. It's a pretty big step up over the S21 FE's 12 MP wide angle lens, though the newer phone's other sensors are a much more standard 12 MP ultrawide at f2.2 and an 8 MP telephoto lens at f2.4, the same as the last time Samsung made a fan edition.
There's also the usual, no-nonsense 10MP front camera you've come to expect. I wanted to see how a newer, 12 MP Samsung sensor would compare to the larger one on the FE. I used Samsung's Z Flip 5 with its two smaller lenses. The details are crisper and less grainy on the 50 MP, though there's not much of a big difference in color capture between the two. These are Samsung cameras through and through, but the layperson won't be able to tell the difference despite the jump in pixel size.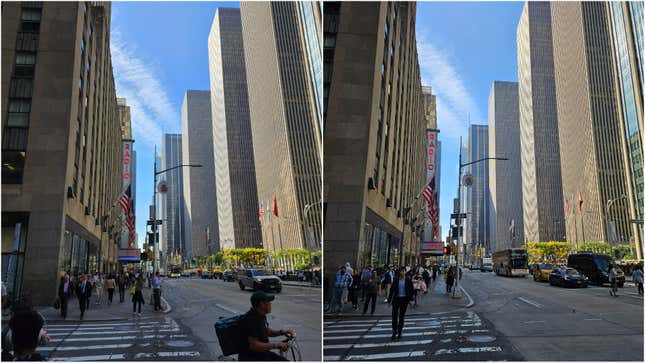 The ultrawide sensor is also in the middle of the road. It won't make out the best detail at a distance, and it's not best for capturing the radiance of a late-September sunset. I did a lot of shooting with it on my morning walks to the train station, and Samsung's sensors are still not the best in the biz. They have a somewhat washout quality that remains disappointing, no matter the pixel size.
The extra beefiness on the main FE sensor is still appreciated, especially as it helps it compete with Google's offering. The Google Pixel 8 is just $100 more and doesn't include a telephoto lens, yet the FE's closeup sensor won't wow anybody with the amount of detail it can pick up.
Samsung Galaxy S23 FE Battery
The 23 FE's Battery Life Isn't Best in Class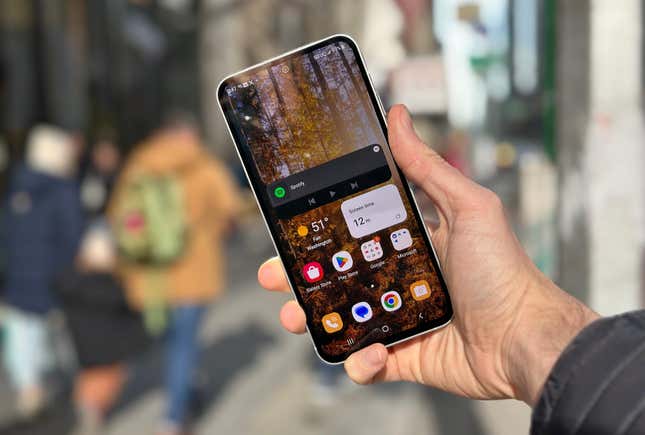 The newest Galaxy FE uses a 4500 mAh non-removable battery. I've used it for a full 8-hour workday and spent my time watching YouTube videos at night and saw it dip down to 40%. With heavier use, I've noticed how the battery seems to wane faster than what I'm used to on other devices.
With that said, I've never run into any issue where I was left bereft of a phone. The device is still new, and battery life could change with time until it becomes a problem. I've also noticed that even when the phone is on without any programs running, the battery does still drain to a surprising degree, even when sitting in a pocket in my backpack not being actively used.
As with any smartphone, you need to make it last a full day until you can get it to a charger. Still, longevity may be a sticking point for some. Google has promised seven years of software updates compared to Samsung's normal four. Then again, that's if you trust Google to follow through on its promises. That company had previously promised users years of deals with the Pixel Pass before unceremoniously killing it.
With the S23, you get Android 13 as well as Samsung's OneUI to add an extra bit of customization on top of everything, including the company's newfangled floating app windows that make much more sense on a foldable like the Z Fold 5 than on any regular candy bar phone.
And like any candy bar, the sweetness can only last for so long. This isn't your $50 70% dark chocolate bar from expert candy Swiss candy smiths. The Galaxy 23 FE is a solid Hershey's milk chocolate bar. Sometimes that's all you want. And when you get it, hell, that hits the spot.