The pair of rocket boosters that lifted the iconic Space Shuttle to orbit are now standing tall at the California Science Center, awaiting the Endeavor orbiter for the full display that will showcase the launch vehicle in its vertical glory for the first time since its retirement.
Astronomers Could Soon Get Warnings When SpaceX Satellites Threaten Their View
The solid rocket boosters (SRBs) were stacked in their final vertical position as part of the future Samuel Oschin Air and Space Center, which is currently under construction. The two 116-foot long (35 meters) boosters, each weighing a whopping 100,000 pounds (45,360 kilograms), were gently lifted by a 450-foot tall crane (138 meters) over the partially constructed walls of the space center, according to the California Science Center.
The museum's Go for Stack process began on July 20, marking Space Exploration Day. The first part of the process involved installing the rocket's aft skirts—a pair of skirt-shaped bottom segments that form the base of the solid rocket boosters. The pair of boosters were stacked atop the previously installed aft skirts using 177 two-inch long pins for each motor.
"With the installation of the Solid Rocket Motors, we are getting a glimpse of how awe-inspiring the final display of Space Shuttle Endeavour will be for visitors and the powerful way it will continue to inspire future generations of scientists, engineers, and explorers," Jeffrey Rudolph, president and CEO of the California Science Center, said in an emailed statement.
Th next step will include the lifting of the External Tank, ET-94, followed by the intricate mating of the orbiter with the rest of the space shuttle stack. 
The twin rocket boosters, donated by Northrop Grumman, trucked their way over from the Mojave Air and Space Port in October. The 15-story high reusable rocket motors served NASA's Space Shuttle program, which ran from 1981 until 2011. They were the final elements of the space shuttle system to arrive at the California Science Center.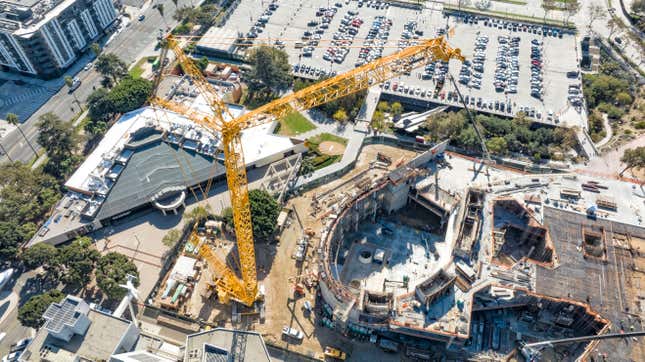 Once fully stacked, the 20-story-tall vertical display will be the only "ready-for-launch" Space Shuttle system in the world in terms of its staging and appearance.
The display will include the Endeavor orbiter, which embarked on its first mission with the Space Shuttle program in 1992, the rocket's solid boosters, and external tank. Endeavor has been on display at the California Science Center for the past 11 years, although it was laying on its side rather than being in a go-for-launch position.
 For more spaceflight in your life, follow us on X (formerly Twitter) and bookmark Gizmodo's dedicated Spaceflight page.