It'd be hard to top last week's Rick and Morty—the cleverly gruesome "That's Amorte," still season seven's high point so far—but "Unmortricken" accomplishes an important task: addressing the show's ever-looming canon by blowing it apart and changing it forever.
What Inspired Dominic Monaghan's Performance in Moriarty?
As fans of the show well know, Rick and Morty has long followed two tracks. First, there's the show's meat and potatoes, the wacky sci-fi adventures we see the characters go on every week. But arcing over that are the plot threads that carry across seasons, which enfold recurring characters like Space Beth, Dr. Wong, and Mr. Poopybutthole; in-jokes for perceptive fans (who else caught the pronunciation of parmesan as "par-mee-sian" in the spaghetti episode?); and deeper explorations of Rick's personal journey as the so-called smartest man in the universe. In season six, we met Rick Prime, the version of Rick who created portal travel then killed "Our" Rick's wife, Diane, when he wouldn't ditch family life in favor of existing without any attachments in the name of weird science. Season seven has been heavily hinting that Rick Prime was bound to show up sooner than later, and "Unmortricken"—a riff on Unforgiven in the show's punny title style—brings him in at the season's midpoint.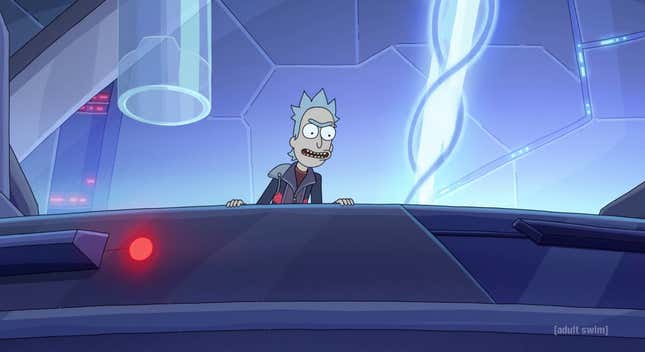 While we've been expecting this showdown since season six, "Unmortricken" unexpectedly brought back another old foe, a character last seen jetting off to galaxies unknown in the season five finale: Evil Morty. The episode opens with a fake-out, leading us to believe we're watching "our" Rick and Morty, but soon reveals itself to be a bit of an Evil Morty origin montage, including his Citadel of Ricks presidential run in season three, before finding a place for him in the present-day search for Rick Prime.
You don't need to remember all the finer details of the season five-ending "Rickmurai Jack"—season six spent time dealing with the absence and eventual return of portal travel, as well as the fact that all the characters were unwittingly zapped back to their original dimensions—to follow "Unmortricken," which makes its stakes very clear. Our Rick wants to exact vengeance upon Rick Prime, a mission made even more urgent when we learn that not only did Rick Prime kill Our Rick's Diane, he wiped every version of her out of existence across every dimension, using a machine so sinister he refuses it give it a name (lesser beings do call it "the Omega Device"). Evil Morty, who left at the end of season five specifically to avoid all Ricks, reluctantly gets involved when Our Rick and Morty blunder across his hideaway, and we're reminded that Evil Morty—not any version of Rick—is the true owner of the title "smartest man in the universe," even if he is only 14.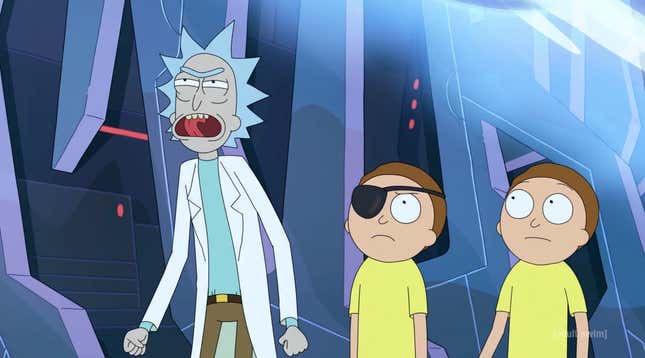 As it turns out, Our Rick needs his help in teeing up the ultimate fight with himself, which starts off as an escalating battle of high-tech prison cubes, clones, and violent gadgets, but ends with Our Rick pummeling Rick Prime to death with his fists. It's what Evil Morty expected him to do—though it's clear he had certain hopes it wouldn't end that way—and at the end of the adventure, he gathers up Rick Prime's Omega Weapon and heads back out on his own, warning Our Rick and Morty not to come after him. He might have assisted them in this instance, but they aren't friends… and with Rick Prime out of the picture, Evil Morty is Rick and Morty's canon supervillain that remains.
We will absolutely be seeing Evil Morty again, but that'll likely be left to future seasons. For now, there's a more pressing issue: what will Rick do now that his life's work has been accomplished? We could clearly see he felt no joy or even catharsis in the aftermath of beating his nemesis to death, and for all the shifts in reality he's had to face over seven seasons—and the efforts he's made, especially more recently, to try and feel comfortable as part of his family—this is the most existentially bewildered he's ever been. How will he function? What will he do next? How will Rick and Morty handle the biggest interior shift of its most important character? As the tease of next week's episode suggested, a lot of booze will be involved (it is Rick we're talking about here), but the rest of season seven will no doubt have lots more to explore.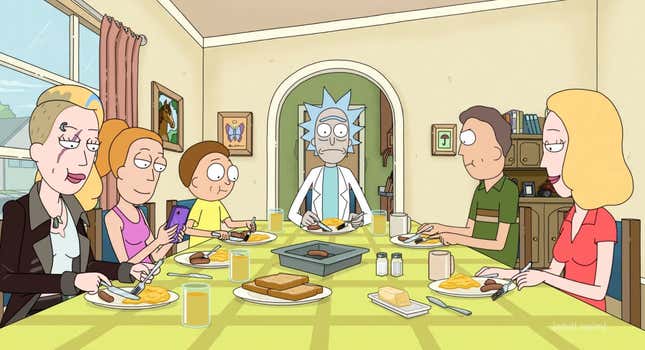 New episodes of Rick and Morty air Sundays at 11 p.m. ET/PT on Adult Swim.
---
Want more io9 news? Check out when to expect the latest Marvel, Star Wars, and Star Trek releases, what's next for the DC Universe on film and TV, and everything you need to know about the future of Doctor Who.