Top 5 Shopping Tips for Amazon Prime Day
Too often, the everyday science of our lives goes unappreciated, from the electrical engineering that powered your toaster this morning to the astronomical insights that allow you to understand what appears in the sky at night. It can be hard to find tools and toys that make us enthusiastic about the phenomena that undergird our world and universe.
That's where our gift guide comes in. Whether you're due for a new bit of science memorabilia or you need ideas for curious kids, these ideas will steer you in the right direction.
Deep Space Calendar for 2024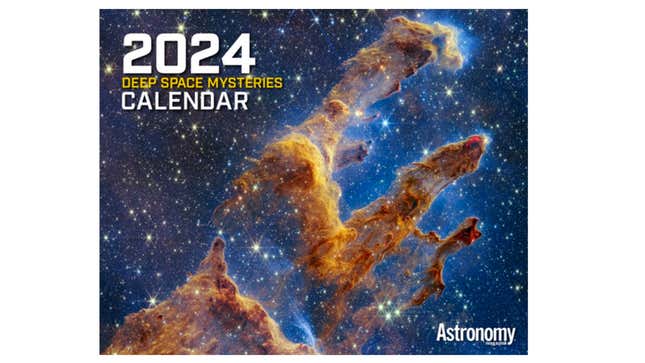 Why we like it: 2023 was a huge year for astronomy, and 2024 is sure to be even bigger. With the Webb and Euclid space telescopes now in operation, astronomers and astrophysicists will be able to see more of the cosmos than ever before. This calendar celebrates some of the beautiful structures recently seen in space, and it includes an observation guide for the 2024 total solar eclipse. Price: $13 Where to buy: My Science Shop, Amazon
A Newton's Cradle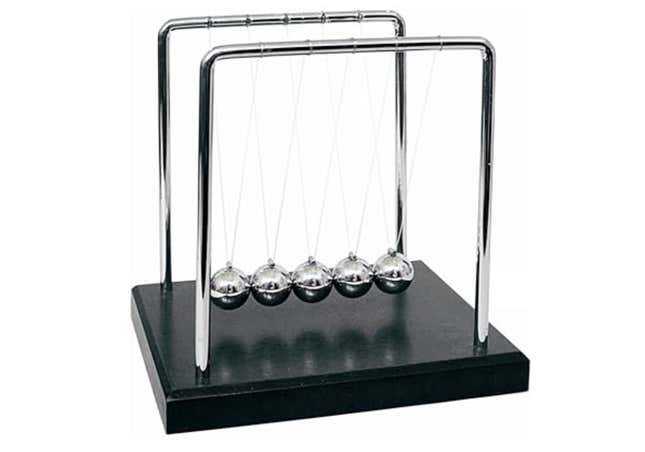 Why we like it: The Newton's cradle is a fantastic gift for all ages. It brings some fundamental principles of physics—two of Newton's laws and the conservation of energy and momentum—close to hand. It's a fun plaything, takes up minimal space, and doesn't look out of place anywhere. Price: $18 Where to buy: Amazon
A Rocks Glass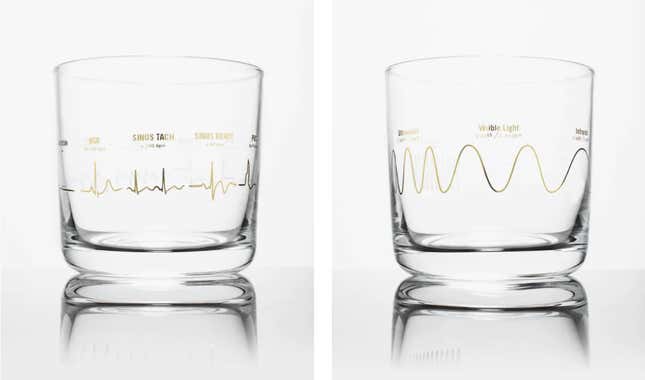 Why we like it: This gift is catered to person who's looking to passively appreciate some science, not dive right into it. Having a cocktail hour with friends? What better time to bust out your four rocks glasses dedicated to the electromagnetic spectrum, human evolution, heart rates, and active space telescopes? The glasses' art is as sleek as it is information, and they'll make a classy gift to the scientist—or Old Fashioned enthusiast—in your life. Price: $18.95 Where to buy: Cognitive Surplus
SnapCircuits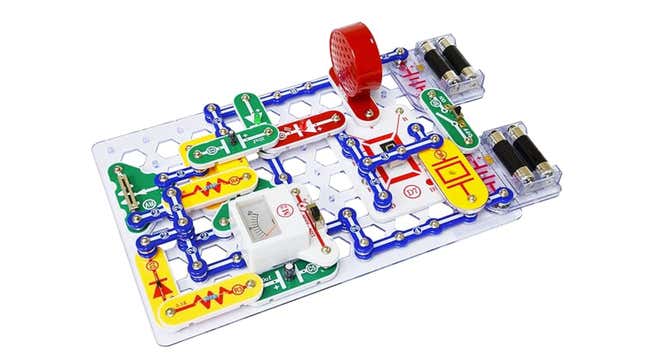 Why we like it: If the kid in your life likes Lego or robotics, they'll almost certainly love SnapCircuits. The toy allows users to build circuits and run current to power propellers, speakers, and meters. It's a great introduction to how electricity works and is fun for adults, too. Price: $135 Where to buy: Elenco, Amazon
Gresus Levitating Globe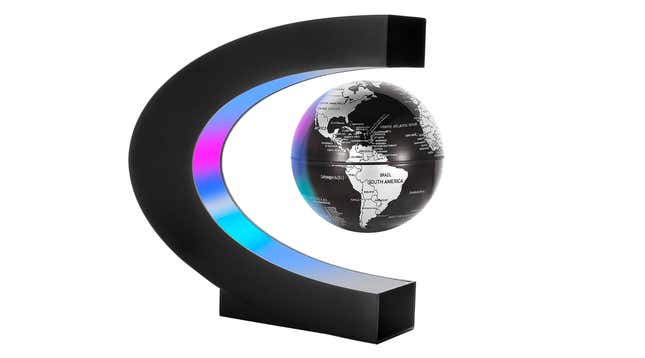 Why we like it: Magnetism and geography, what a lovely combination. With this gift—like the Newton's cradle, great to spruce up a desk—the country-naming aficionado in your life will have something to gently spin and study. What's not to like? Price: $27 Where to buy: Amazon
A Programmable Drone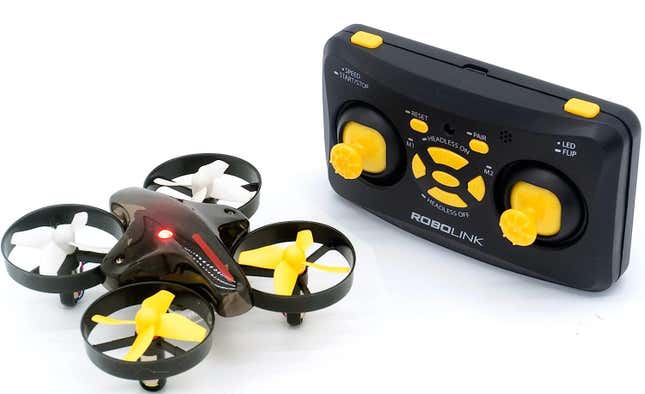 Why we like it: Hands-on makes all the difference; it lets someone learn experientially, in a more engaging way than just reading about it. That's certainly the case with this programmable drone. It's a tool that kids and adults can use to understand some basics of coding, robotics, and of course, aeronautics. Price: $100 Where to buy: Amazon, Robolink
National Geographic's Super Gross Science Kit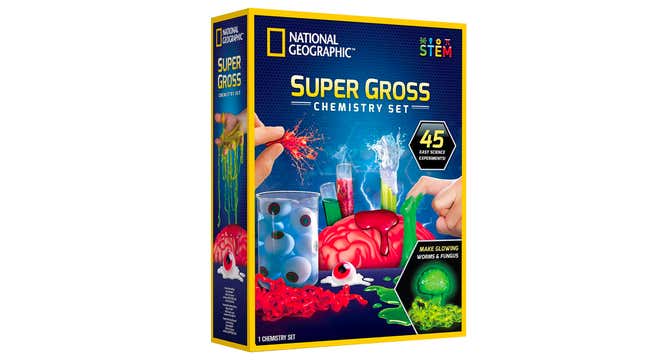 Why we like it: 45 experiments in one $25 kit is too good a deal to pass up. The different activities are indeed gross—like test tube "vomit"—so it's hard to do better in terms of science variety sets for kids. Price: $25 Where to buy: Amazon
'Cosmic Cliffs' Puzzle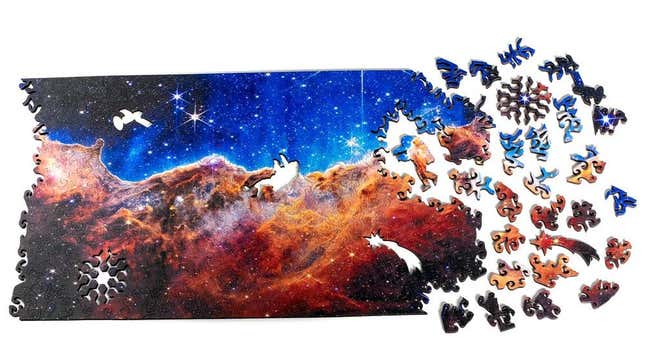 Why we like it: This puzzle can be assembled in "thousands of different ways," according to Nervous System. It depicts one of the first scientific images taken by the Webb Space Telescope, and it isn't the most intuitive puzzle to assemble, even if you were to recreate the cliffs as they appear in the Webb image. In other words: it's a challenge! Price: $75 Where to buy: Nervous System
100 Science Stickers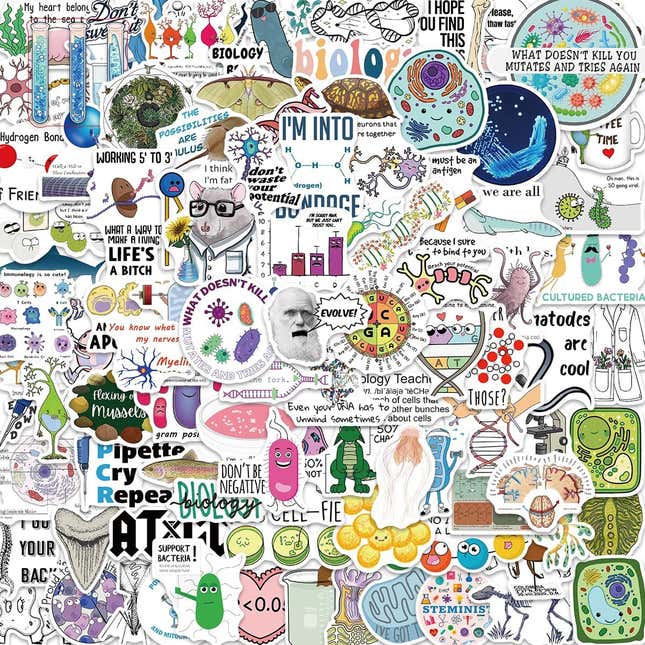 Why we like it: Besides being a great deal, this is the kind of gift that keeps on giving. If you give a loved one 100 science stickers, they may send some of those stickers to their friends, sharing the love. These are a fun and affordable way to explore scientific concepts. Price: $6 Where to buy: Amazon
Microscope Science Kit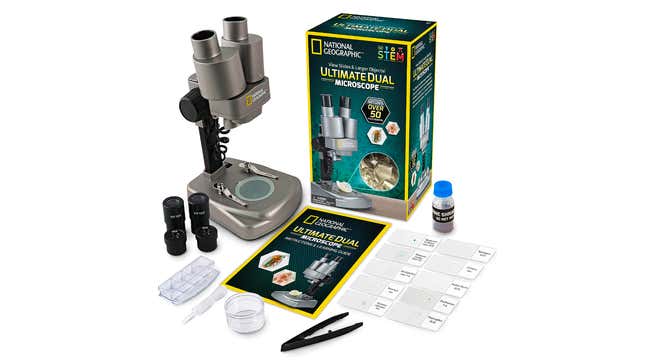 Why we like it: This microscope kit comes with prepared slides and 10 do-it-yourself slides to let a budding scientist explore the natural world up close and personal. It also includes a kit to track the life cycle of brine shrimp in real time. All told, the learning experience is well worth the pricetag. Price: $68 Where to buy: Amazon